Since my early days, I sensed my destiny lay in design. Having resided in Milan, European design greatly influenced my creative journey. The interplay of colors, the exploration of textures, and the art of layering became integral to my creative pursuits. Over 11 years of working in the luxury sector, I gained valuable insights into crafting opulent products, profoundly shaping my design choices and aesthetic sensibilities.​
After a decade of living in the same apartment, my husband and I agreed it was time to rejuvenate the space, both in terms of aesthetics and functionality. Our home had to authentically reflect our personalities and embrace our unique lifestyle. As creators of furniture for our brand, we felt a strong urge to inhabit the very pieces we crafted. Our dwelling became an embodiment of our individuality, driving our design decisions and allowing our life stories to unfold freely. In this creative sanctuary, rules were meant to be broken!​
The revitalized house now stands as a vibrant hub of art and design, simultaneously exuding elegance and comfort. Guided by a design-centric approach that seamlessly weaves together the past and the present, our love for masterful craftsmanship finds expression in every corner. Our passion for art and craftsmanship is evident through the unique objects and art collected over time, while heirloom furniture gracefully melds with the overall aesthetic, weaving a tapestry that tells stories from different eras.​
– KEERTHI TUMMALA​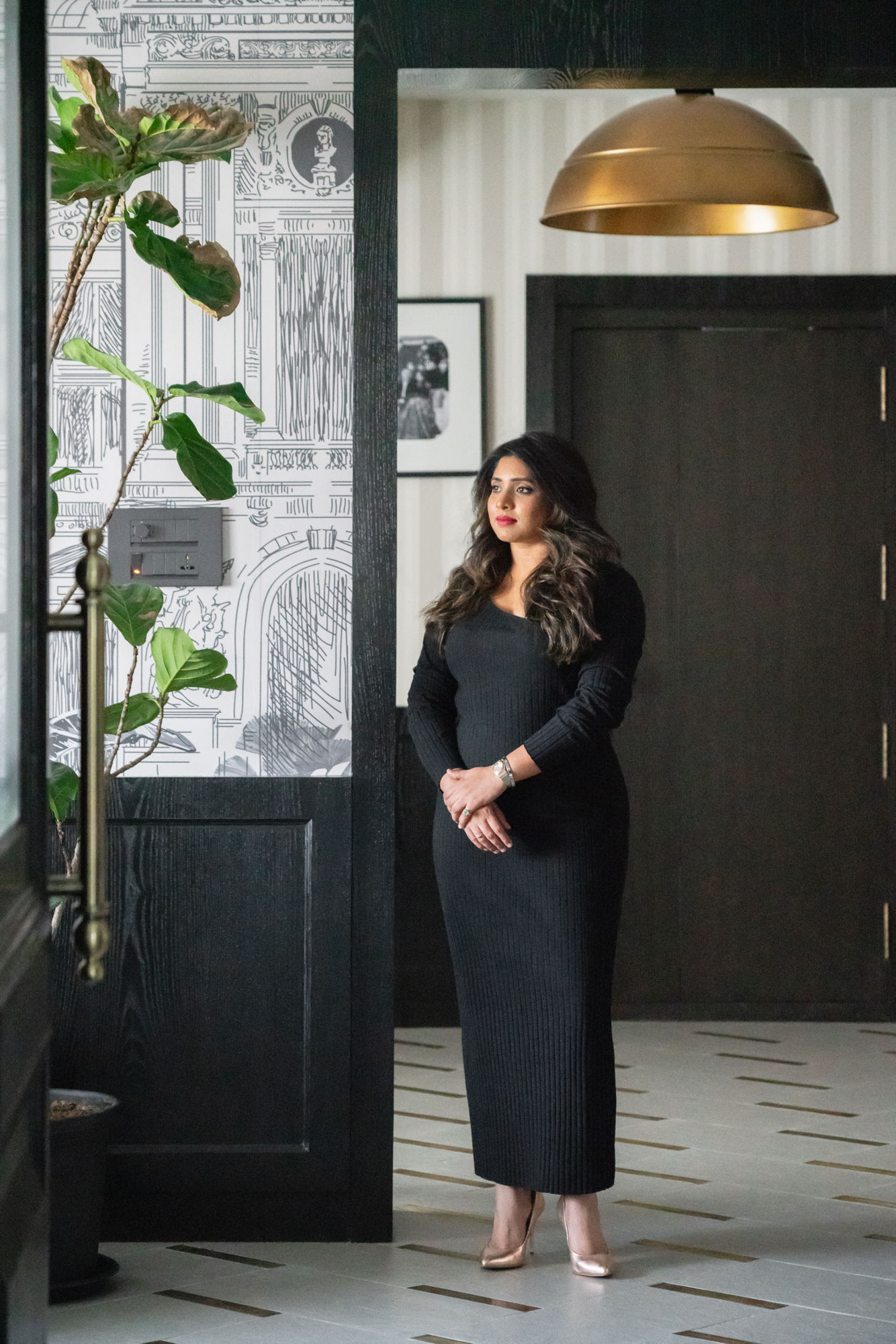 Two opposite energies come together to create a beautiful and harmonious whole. ​
LUNA epitomizes the harmonious fusion of Yin Yang, seamlessly blending opulence and earthiness. By consciously intertwining luxurious elements like brass and stone with organic materials such as jute, wood, and cane, we achieve a balanced synthesis of lavishness and natural beauty. Just like the sun and the moon, day and night, the contrast between concrete and brass embodies our core belief that seemingly contrasting entities can harmonize and form a cohesive entirety. These design choices not only captivate the eye but also accentuate a sense of diversity, depth, and character.​
The multi-layered city apartment embraces Time-Period Fusion, combining earthy and inviting luxury with retro-inspired tiles and a blend of heirlooms and contemporary furniture pieces. The inclusion of curved silhouettes encourages both tactile engagement and seamless visual movement throughout the home. We have meticulously incorporated a variety of vintage trinkets, artwork, and wall hangings, unified by era, color, or shape. This ensures a thoughtfully curated space that embraces maximalism without forgoing order. With beautiful and sculptural green elements gracing the entire house, a relaxed ambiance permeates, seamlessly connecting the indoors with the outdoors.​
Location: Hitech City, Hyderabad​
Project Type: Highrise Apartment​
Apartment Size: 3100 SQFT.​
Designer: Keerthi Tummala​
Furniture: WA Bespoke & Sage Living ​
Photography: Deepak Agarwal Photography​